ORE has introduced over 20 commercial varieties of citrus to Haiti over the past two decades, and propagates up to a hundred thousand trees for planting by farmers every year.

Your donations to ORE will have a real and lasting impact on reducing poverty and improving the environment in Haiti. Every gift goes straight to the people you want to help. As a US 501(c) Non Profit organization with over 25 years of Haitian-based activities, we are able to keep our costs to a minimum ensuring that your gift goes directly to those with the greatest needs.
Citrus provide of income and nutrition
Since 1985 ORE has worked with all the major commercial varieties of citrus. Several nurseries have been set up in southern Haiti, as well as an important top-grafting program of sour orange trees. The goal is to increase the number of commercial trees by nursery production of seedlings and by top-grafting the sour orange trees which grow in abundance throughout the countryside. ORE has selected the varieties which demonstrated the highest crops revenues: Clementine, Mandarine de Jacmel, Tangelo, and sweet oranges such as Washington Navel and Valencia. Tangelo are very popular because they tend to bear fruit around the year. Mandarins are a gold mine for hillside farmers and we have propagated thousands of Mandarins trees in the Jacmel area. They are one of the highest revenue crops in the country.

Prior to 1984 there were few grafted citrus trees in Haiti outside of small scattered private collections. There were, however, millions of sour orange trees which could easily be converted by top-work grafting into first class commercial quality trees. We began to produce grafted seedlings in nurseries, and using top-grafting in the field to transform sour orange trees into commercial quality trees, Valencia or Grapefruit. We also introducing most of the international commercial varieties of citrus and established them in Haiti.
We introducing most of the international commercial varieties of citrus by obtained budwood from USDA Agricultural Research Stations in Florida and Puerto Rico, and also CIRAD in France and grafting our own trees. The major varieties introduced are:
Oranges: Hamlin; Pineapple; Valencia; and Washington Navel
Tangelos (Grapefruit x Orange): Minneola Tangelo; Tangelo; and Chironja
Tangors (Orange x Mandarin): Ortanique; Temple; Mandarin; Dancy; Isabella; Mandarine; Siamesse; Nicaragua; and Ocassio
Limes & Lemons: Eureka (lemon); Sicilian (lemon); and Tahitian (lime)
Grapefruit: Duncan; Marsh; Red Blush; and Ruby Red
Mandarins: Jacmel mandarin; Fremont; and Clementine .
Budwood orchards have been planted at various locations and stocked with the best international varieties suitable for local conditions.
ORE propagates citrus tree using two techniques: the nursery production of seedlings for distribution to farmers for planting, and the top-grafting of existing non-commercial fruit trees. A grafted citrus tree can bear fruit after 2 - 3 years as opposed to 5 years from seed. Top worked trees i.e. mature established trees which are grafted in the field sometimes bear fruit after only one year. Up to 100,000 sour orange seedlings can be grown annually in plastic bags in the Camp Perrin, Saut Mathurine and Formond nurseries. The trees are grafted when they are about 8 months old, or when the stem is of pencil thickness. The majority of the seedlings are "T" budded, a few older trees are patch grafted. The seedlings are distributed to farmers at about 12 months after seeding.

Grafting wild sour orange trees:
Wild sour oranges abound in most of the project areas. Teams of grafters have visited the project locations and top-worked the trees with improved varieties. This is an inexpensive way of converting wild trees into productive commercial ones.
Nutrition: Citrus is most commonly thought of as a good source of vitamin C. However, like most other whole foods, citrus fruits also contain an impressive list of other essential nutrients, including both glycaemic and non-glycaemic carbohydrate (sugars and fibre), potassium, folate, calcium, thiamin, niacin, vitamin B6, phosphorus, magnesium, copper, riboflavin, pantothenic acid and a variety of phytochemicals. (FAO)
The economic impact: Oranges, tangelo, grapefruit and limes are all bring in a good income. The 'Mandarines de Jacmel' variety of mandarins, however, is firmly established as one of the highest revenue crops in Haiti. Marchandes regularly buy the entire mandarin crop from farmers at prices varying from $25 - $100 US per tree depending on its size. We have focused on expanding existing mandarin orchards and introducing this lucrative crop to other areas in the south of Haiti.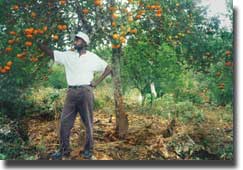 A look at citrus in Haiti
Support our efforts to give farmers more high value trees