ORE has been collecting the daily rainfall figures for Camp Perrin in southern Haiti since 1993. Rainfall in the tropics has a direct, often dramatic effect on the environment, agriculture and the infrastructure. We hope that these statistics are useful to whoever is interested.

Your donations to ORE will have a real and lasting impact on reducing poverty and improving the environment in Haiti. Every gift goes straight to the people you want to help. As a US 501(c) Non Profit organization with over 25 years of Haitian-based activities, we are able to keep our costs to a minimum ensuring that your gift goes directly to those with the greatest needs.
Rainfall Data
The rainfall statistics collected by ORE are available in 2 formats:
- charts showing the daily and monthly rainfall for each year
- charts comparing the annual rainfall for each year through the period 1993-2011.
Daily and monthly rainfall figures for each year
Daily rainfall figures and monthly totals for Camp Perrin, Haiti, in inches or millimeters, can be downloaded for each individual year in pdf format, or in a single combined pdf report.
Example of daily and monthly reports:
Daily Rainfall - 2008 - Camp Perrin Haiti



Annual Rainfall Figures (1993 - 2010)
The annual rainfall figures for 1993 to 2008 can be downloaded in pdf format either in inches or millimeters. This format allows you to compare the rainfall from one year to another.
Example of Annual Rainfall Figures (1993 - 2010)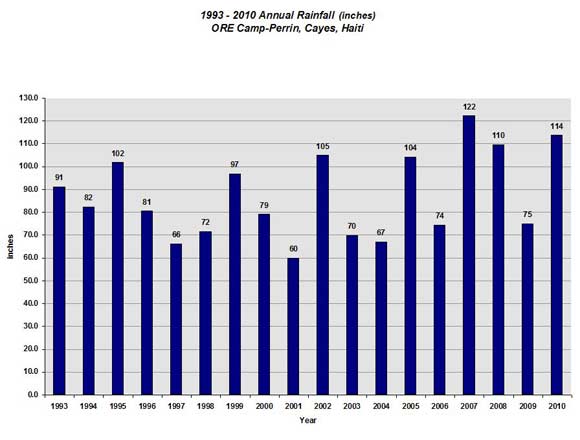 Support our efforts to collect rainfall data in southern Haiti